How to Measure a Filter Cartridge
Measure the outside diameter (A)
Measure the overall length including end caps (B)
Note: Do NOT include handles, strings or special adapters in this measurement.
If the top and/or bottom end cap is open, measure the inside diameter of the opening (C)
Identify the cartridge filter manufacturer and part number of the filer housing in which the replacement cartridge will be installed.
Identify if there is a center core.
Count the number of pleats. Counting the number of pleats helps to identify the overall square footage for filtration.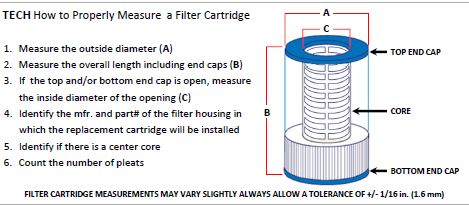 * IMPORTANT:

Filter Cartridge Measurements may vary slightly. Always allow a tolerance of +/- 1/16in. (1.66 mm.)