Spa Leak Repair - "My spa leaks"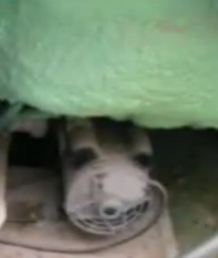 Leaks can occur from a variety of sources in a spa. There are several ways to go about finding a leak. The best and first course is basic observation. What area is the leak coming from, can it be detected visually? Sometimes after a cold winter, pipes or jet fittings can crack on empty spas if the spa was not completely drained or properly winterized. Spa chemistry can also cause seals or o-rings around jets to fail.

The first places to look for a leak include the pump unions, pump seal, slice valves, heater union o-rings and connections, plumbing pipes, manifolds, tubing, jet bodies and even the filter housing or the spa shell itself.

First, power the spa down assuring there is no power going to the spa. Observe the equipment compartment and inside the spa cabinet for obvious signs of a leak. If it is a slow leak, a general area can be wiped and paper can be laid down to find the trickle.

Sometimes hand tightening unions around pumps or heater can solve a slight leak at the union. These can jiggle loose during transit (even on new spas) or from prolonged vibration.

If the leak is coming from the pump, it is either from one of the two unions, possibly from a freeze plug on the pump, or from the pump seal itself. This repair may require either pump seal replacement or the entire pump to be replaced, depending on several factors including how old the pump is.

Slice valves or knife-style valves are placed on both sides of a pump to allow for easy servicing with the water remaining in the spa are sometimes vulnerable to leaking. These can also get stuck in the half open position which may cause flow issues, heater issues, pump issues and other problems.

If the leak location is hard to find, you may need to use a dye solution or observe at what level the spa stops leaking when allowed to run out on it's own.

If the leak is caused by a jet body or jet gasket, then the jet body can be replaced along with a new gasket. Never reuse old gaskets when replacing jets in order to avoid repeat problems.


*these articles are provided for educational purposes only - do not attempt to repair a spa unless you have the experience and capability to carry out such a repair. When in doubt, contact ELM to refer you to your nearest spa repair professional.