Join the Revolution of Natural Hot Water Care!
Master Radiance Enzymes reduce chlorine and bromine use in spas. This environmentally friendly hot tub watet treatment can be used with all APPROVED Sanitizers.
Master Radiance Enzymes are all organic with no added soaps, lanolin or other foreign chemicals. Use Enzymes on a weekly basis to maintain a good oxidation process.
Natural Master Radiance Enzyme Features include:
non-irritating
non-foaming
non-hazardous
eliminates scum
non-toxic
non-flammable
minimizes chemical odor

The more frequently you use Enzymes, the less frequently you will need harsh
chemicals. Enzymes help maintain pH and Alkalinity too.

Clean your filter often to remove suspended solids and oils that Enzymes
dislodge and purge your hot tub twice per year with one of our awesome purge products.

Contact us to find out more on purging, filters and water care.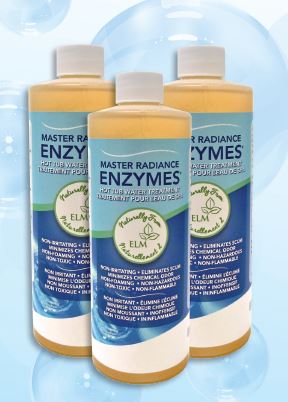 • 16 ounces lasts 16 weeks for hot tubs up to 500 gallons/1,900 litres in volume
• Reduce chemicals in your hot tub
• Have clear, clean natural water
• Available for pools too!
Download the Master Radiance brochure (pdf)