Spa Cover Lift and Steps
Enjoy your hot tub more with a convenient Spa Cover Lift and durable Hot Tub Steps!
Spa Cover Lift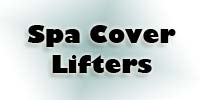 That's a big cover! Why risk injury, or even be put off of using your spa because it is too much work to remove the spa cover. A spa cover lifter makes it easy for one person to remove and replace any hot tub cover by themselves. A hot tub cover lifter is one of the most popular hot tub spa accessories in Canada. Statistics show that cover lifters increase hot tub usage significantly.

Master Lifter - One cover lift, multiple applications!
ELM Sales and Equipment Inc.
offers discount and wholesale hot tub spa cover lifts including the EZ-Lifter and several versions of the Master Lift spa cover lifter. ELM offers you the best cover lifters for all types of spas. Contact ELM for the retailer closest to you offering the best pricing and availabilty of hot tub cover lifters in Canada. More about
Cover Lifters
Spa Steps Canada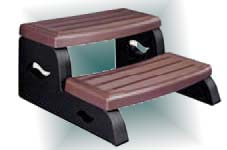 Spa steps are one of the first accessories purchased for a spa. All season spa steps are important to withstand the Canadian winters. Hot tub steps come in a variety of materials, sizes and shapes. The durable spa steps provide a slip-resistant surface with a weight capacity of 800 lbs.

Several designer colours are available to match your spa.

Attractive spa steps help you get in an out of your spa safely and easily.
Since most spa steps are dual-level and portable, they can also be used around the house for various other tasks. Spa steps are weather resistant, sturdy, blend with your décor and help you, your family and friends enter or exit your spa safely.
More information on ELM stock spa steps for shipment throughout Canada:

Get the complete ELM Spa Product Catalogue.