Spa Heater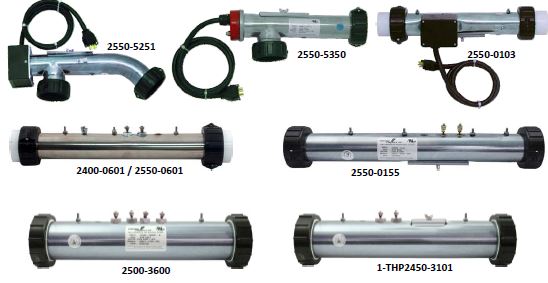 Spa Heaters come in many different types. Most prevalent are the electrical flow through spa heaters. These type of heaters contain a heater element surrounded by a heater manifold. There are also gas spa heaters and even solar spa heating systems.

Spa manufacturers source their components from third party manufacturers. Therefore it is not possible to know which heater type is installed simply by the brand of the spa.
Only through actually looking at the heater can you determine the correct heater sizing and type for replacement.

Some important factors to consider when replacing a flow through type electrical spa heater....
type of heater
heater voltage (120V or 240V)
length of the heater,
kilowatt rating of the heater element (kw)
whether or not it has a pressure switch mounted to it
mounting flange - (how the heater element attaches to the heater manifold or housing)
Typically the distance between the two terminals is 1 ¼".
More information on ELM stocked spa heaters and hot tub heater elements:

Get the complete ELM Spa Product Catalogue.
Hot Tub Heater
Ask us about the new 4kW Gecko In.Therm heater.

The most common heater found in a hot tub is the flow-thru heater type. Sometimes it is enough to replace just the heater element. Other times the entire heater assembly will need to be replaced. Flow through heaters are specified with voltage ratings (120V or 240V), kilowatt ratings (kw) and length, among other factors.

A hot tub heater can fail for several reasons however preventative measures include observing good water chemistry, keeping the ph levels within the optimum range and cleaning the hot tub filter regularly.

ELM Sales and Equipment Inc. distributes a wide variety of spa heaters and spa heater elements including flow through heater manifolds with heater elements for CTI, Micro-Tech, Hydro Pak, Wolf Pak, Mini Max Digital, Coast Mountain, Galbocca and more. All ELM heater assemblies and manifold assemblies include the mounting hardware.
If you only need a heater element, see our
heater element section
.
Today, Spa Heater and Hot Tub Heater are used interchangeably
In the early days of portable spas, "hot tubs" were the round wooden type. As plastics began to be used, the term "spa" was coined to differentiate the new breed of bubbling hot water vessels from the earlier wooden hot tubs. Today they are hot tubs, hot tub spas, Jacuzzis, spas and even whirlpools. We certainly have come a long way from oak barrels, olive vats and wine tanks.