Spa Plumbing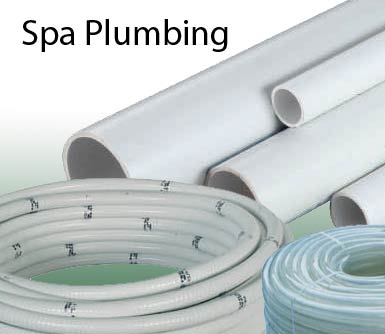 Hot tub plumbing consists of various tubes, hoses and pipes joined together by different types of PVC connectors to allow the recirculation, heating and filtering of water through the entire spa.

Plumbing systems can use various diameter pipe. 2 inch plumbing is the most common and actually moves twice the amount of water as a 1-1/2 inch plumbing system.

In addition to the water plumbing system for the jets, there are generally two types of air plumbing systems for hot tubs.
The first, and most commonly found on almost every spa, is the air venturi system. In this system, the air is actually drawn into the jets water line through one or more adjustable air control valves.
The action of the water moving through a narrow orifice inside the back of the jet body actually creates a vacuum that pulls the air into the plumbing circuit.
The second type is the forced air system, where air is pushed through a separate plumbing circuit that is independent of the jets water circuit. In this system, an air pump referred to as a 'blower', pushes air out of dedicated air jets called air injectors, which are usually located lower in the spa on the edge of the seats, and/or through a built-in air channel in the foot-well area

Although not that common, some hot tub manufacturers will actually put an air blower on the jets plumbing circuit to 'boost' the air at the water jet, increasing the jet output pressure. This is referred to as turbo charging the jets.


More information on ELM stocked PVC Fittings and Spa Plumbing parts:

Get the latest version of the ELM Spa Product Catalogue.
Spa Manifold
PVC spa manifolds are available in 3-way, 4-way, 5-way,6-way and many more different styles and types including manifold wyes, true wyes and side outlet wyes. PVC spa manifolds are specifically manufactured for the spa industry and are designed to withstand the hot water temperatures found in a hot tub.
PVC Pipe Fittings
Spa and hot tub PVC pipe fittings are available in many different shapes and sizes. From elbows to plugs, adapters to tees, ELM sales and equipment is your PVC pipe fittings stocking distributor for Canada.
From obscure to the most popular, ELM has your PVC pipe fitting in stock. The PVC fittings we carry are impact resistant, temperature resistant and even include UV stabilizers to provide longer life in an outdoor spa application.
Spa suction fittings
ELM Canada stocks a wide variety of Waterway spa suction fittings including floor drains, lo-pro, super hi-flo, hi-flo as well as various unions and union nuts. Spa suction fittings also come in different sizes and colours. Spa suction fittings include the actual fitting grate as well as the fitting nut and gasket. Silicone is typically used to complete the suction fitting installation.
Valves - Gate and Ball Valves
Gate or ball valves are sometimes used on either side of the pump. This is a maintenance feature that allows for water shutoff while performing service without having to drain the spa. These valves must always be left in the completely open position when using the spa. Slice valves are one type of common gate valve. Care must be taken to insure slice valves work properly and are always completely open since they can have a tendency to get stuck mid-range.

ELM carries a wide variety of spa valves including those made by Praher and Magic Plastics.


The check valve is used in a hot tub to allow water to only flow in one direction.
Check valves for spas come in several different sizes. Check valves serve several different functions, including the prevention of water backing up in the air blower line. They are also used to prevent water backing up in to ozonators and chloronators to avoid the flow of chemicals back into the supply. A check valve is also sometimes plumbed into the 2 inch plumbing of a spa to maintain water direction. Having a good air bend as a first line of defense before the check valve serves to protect against water backing up into ozonator or blower.