Spa Filters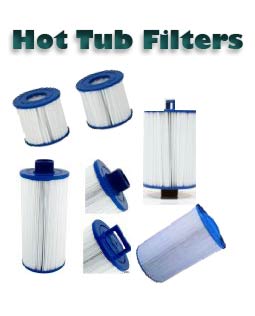 ELM Sales and Equipment carries spa filters for most Canadian and U.S. spa models. Cartridge filters are available in single or case quantities.
The first step to buying a replacement hot tub filter is to measure the existing filter. For more information on measuring your hot tub filter cartridge, see our guide on How to Measure a Spa Filter Cartridge for more details.
ELM proudly carries Master Deluxe and Filbur in Canada, two of the best filter cartridge brands available in the industry. Master Deluxe filter cartridges are manufactured to the highest standards with attention to details including chlorine and crack resistant antimicrobial end-caps and efficient High Flow, Low Pressure Drop core technology.
Both Master Deluxe and Filbur cartridges use REEMAY® polyester/cellulose filtration fabric - the very best, and an industry leader for decades. Filbur also offers the Filbur Freedom™ premium series antimicrobial spa filter cartridges.

More information on ELM Canada's stock of Master Deluxe and Filbur cartridge filters:

Get the complete ELM Spa Product Catalogue.
Spa Filter Cartridge
The Master Deluxe High Flow, Low Pressure Drop core technology allows more water to flow through the filtration fabric and maximizes the effective filter area. Better water flow equals better filtration.
The Filbur Freedom™ antimicrobial filter cartridges feature Microban® applied to the Reemay® filtration fabric to help prevent the growth of bacteria. When microorganisms come in contact with the treated filter media, they are no longer able to function, grow, or reproduce. Microban protection will not wash out or wear away and will last as long as the filter cartridge itself.
ELM pays attention to these kinds of details for you when sourcing products for our Canadian distributors and consumers to make sure only the top quality spa parts and accessories make their way to Canadian spa owners. We have done the research so you can enjoy your spa.
Spa Filter Parts

Complete top load filter systems by Waterway are available for distributors, OEMs and dealers in Canada. ELM also carries Rainbow filters Dynamic Series, including top load and lily pad filter types. Contact ELM Sales and Equipment for all of your Canadian spa parts needs. We help you get the right part for your spa. ELM Sales and Equipment Inc. is a major parts supplier to Canadian spa parts distributors and OEM spa manufacturers in Canada.
How do cartridge filters work?
Filters for hot tubs allow water to pass through while capturing or filtering out debris that can accumulate in a spa. The square footage of a cartridge refers to the amount of material or "media" used in the filter.
Spa cartridges should be cleaned regularly for optimal water flow. They can be hosed off or soaked in an overnight filter cleaner. Learn how to clean your spa filter in this spa maintenance video. Never use a stiff brush to clean the filter media, maintain spa chemistry in proper balance and alternate two sets of filters when cleaning.

Over time the filter will gradually plug up and need replacement. Soaps, oils, chemicals and particulates can accelerate the clogging process. Washing feet or taking a body shower prior to entering the spa can also help eliminate excessive shampoo, cream and other body lotions from getting into the spa water.
It is time to replace your filter when:
the filter starts showing shorter cycle times between cleanings
you notice low water flow
a tear in the filter media appears
the center core collapses
Regularly using new filters will keep the spa operating at peak performance while minimizing undue strain on the pumps and equipment.